Premier Venue Promises an Event to Remember
I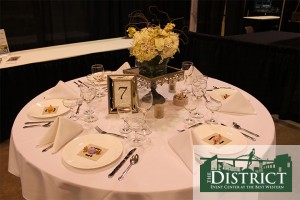 f you've ever attended a wedding reception, you remember the ones that were less than perfect. Food that wasn't up to par, inattentive wait staff and the sense that things "just weren't right" are common with venues that don't have the experience and expertise needed on such an important day.
But when you choose The District Event Center, you can be assured that your wedding reception will be fun, flawless and memorable for you and your guests.
"Many venues make big promises but can't deliver," says Autum Thomson, event and sales manager at The District. "That's not something you want to leave to chance on the most important day of your life."
Unlike other wedding reception venues that have been operating only a short time, The District has been in business for more than 20 years. We train our staff and hold them to our exacting standards. From Day 1, no detail is too small and no request is out of the question. From decor, menu and bar offerings, to assistance with outside vendors like florists, DJs and bakers, we'll assist you every step of the way to make sure your day is perfect.
For more information on choosing The District for your wedding reception, call Autum Thomson at 920-544-5465 or visit www.thedistrictgreenbay.com.