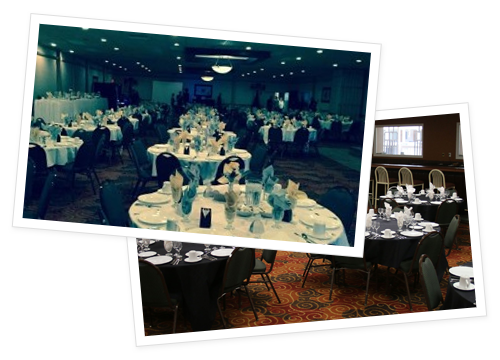 The District Event Center Green Bay has the staff and facilities to accommodate weddings, corporate functions, family reunions and more.
The District Event Center is a venue located in the heart of Green Bay Packer country with the legendary Lambeau Field as a backdrop. There are numerous dining and entertainment venues all just a short walk away, which will keep you and your guests entertained for the duration of your stay.
We are not just any venue for your event, though, and we certainly cannot be grouped with other party facilities
We choose to go beyond the simple rental of event space for our clients because we know that events of today consist of so much more. We have a large staff who will professionally work with you to identify which of our facilities best suits your specific needs. We have rooms that range from a capacity of 50 to 500 and can create a combination for even larger events. Looking for catering? We can help with that too! We will collaborate with you to craft a menu that will provide delicious options for everyone, including those with special dietary requirements. Once you have decided on the amount of event space that you'll need, along with other catering or event-specific accommodations such as A/V equipment, you can leave the rest to us! At The District Event Center our goal is to provide you with as stress-free of an experience as possible.
So when you need a venue that offers the perfect amount of event space and accommodations tailored for your social gathering, high school reunion, wedding or corporate function, you've come to the right place. Welcome to the District Event Center Green Bay!
Other Amenities at the District Event Center has to offer:

Delicious menu
We offer an extensive menu featuring appetizers and family style, buffet and plated options for any size event, budget or dietary preference.

Best Western Green Bay
We're attached to the Best Western's 145 beautifully appointed pet friendly, non-smoking rooms with full-service amenities and superior customer service are perfect for in- and out of-town-guests alike.

D2 Sports Pub
Surrounded by Lambeau Field and the Resch Center, our sports pub, and restaurant always has something going on! And, we offer catering for any kind of party. You'll be amazed at by our menu as well as our venue!
What kind of function are you?
What People are saying
Thank you again for all your help, everyone enjoyed the food and banquet room!
Everything was outstanding tonight! Perfect actually. You have a terrific staff also. Mark us down for next year around the same time.
Everyone had a GREAT time. That is one of the best parties we've had!!
Just wanted to let you know that Rob was great and handled our needs perfectly. Thanks for everything and we may be seeing you later this season.
Thank you so much for your help in putting together such a great event for the group. I had many positive comments today from the attendees regarding the room, drinks, food and staff at yesterday's event. Everything was excellent! We greatly appreciate your help and direction in the planning process as well as the follow through and attention to detail throughout the event. I will definitely be keeping your contact information on hand for reference during any future events in Green Bay.