Green Bay Business Provides Outstanding Service, Amenities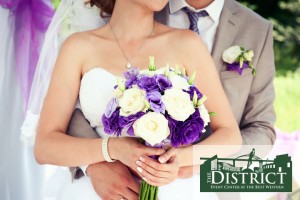 When planning your big day, you want to choose the best wedding venue for you and your budget. When you choose The District Event Center, you can be assured that is exactly what you will get.
"One thing that makes The District Event Center one of the best wedding venues is that while we have hosting such events down to a science, we're also completely flexible when it comes to working with couples to make their day memorable and uniquely theirs," says the event and sales director at The District.
Choosing the date for most couples is dependent upon the availability of the hall or room they want.  Availability is also affected by other events going on in the area such as Packer games. During football season, couples might want to consider a Friday date if they want to reserve rooms at the center's adjacent Best Western hotel. It is less expensive, a 2-night stay is not required and more rooms are available.
Once a date has been chosen, couples tour the facility to see which rooms are most appropriate for the size of their event. The District has five rooms of various sizes. The Enclave is the largest and most versatile ballroom, able to accommodate as many as 450 guests. It features a large 30'x10' expanded bar, round-table seating for up to 270 and banquet-style seating for up to 430 guests. There is also enough space for as many as 500 for dances. An adjacent room, The Annex, features a full-service bar and is available for cocktail hour. It overlooks the hotel pool which is surrounded by real trees and is a great space for up to 120 guests.
The Mezzanine is for mid-size events, features beautiful chandeliers and accommodates up to 185. , and it's perfect for relaxed or formal affairs.
For more casual, intimate events, The Board Room is perfect for rehearsal dinners or smaller celebrations. It has enough space for 30 to 40 people. The Lombardi Room features laid-back ambiance with custom murals and chandelier lighting. Accommodating up to 100 guests, it is also ideal for showers and parties.
Once a room has been chosen, an $800 deposit is required to hold the date. Guests are then given a comprehensive package of information which breaks down all their food and drink options.
Options are divided into bronze, silver, gold and platinum packages and vary in terms of what is offered. Wine or champagne at the head table and free beer after dinner until midnight are included in all packages. The Platinum package also includes: open bar before dinner, hors d'oeuvres, two dinner entrees, a free LCD HDTV projector, cake-cutting service, free soda and pizzas, a free gift opening room the next day and a free room at the Best Western including the Bridal Suite if available.
Although many couples have an idea of which florists, DJs or bakeries they might hire, We are happy to recommend vendors we trusts. Those include Buds & Blooms, Bronson Smith of Superior Sound Entertainment, and Bake My Day and Bernie's bakeries.
The District provides all the linens in the color the couple prefers. That includes tablecloths, napkins and skirting for round or banquet tables. Vases and beveled mirrors are also available for floral arrangements and centerpieces.
Approximately one month before the event, a final head count is required. At this time the color scheme and wine and beer choices are given. Rooms are set and open by noon on Friday before a Saturday wedding.
"That way they can come in, decorate and see that everything is ready for their event," the event and sales director at The District says "I will also be there to address any questions they might have, and I'm there during the event as well so they can be assured that one point person can attend to their needs."
For more information on why The District is the best wedding venue or a great corporate meeting space, call us at 920-544-5465 or visit www.thedistrictgreenbay.com.